ALL / Austin, Travis County and South Central Texas Weather Update #x
Prepared by UT University/Incident Response Meteorologist Troy Kimmel
915am CT – Friday / 04 September 2020
My Observations/Thoughts…
With morning rainfall and our ground increasingly becoming saturated, I'm getting a bit
more concerned with the slow moving rain showers and thunderstorms overhead. In addition
to the NWS/Austin-San Antonio issued Flash Flood WARNING for southern metro Austin..
the NWS/Weather Prediction Center has now voiced their concern as well.. see below..
Remember.. Turn Around, Don't Drown!
I'm continuing to monitor..
tk
… Authority / NWS Austin-San Antonio …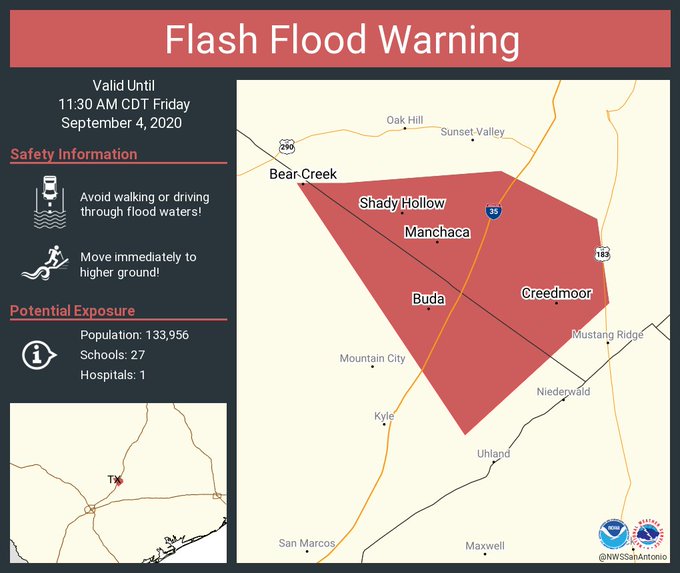 BULLETIN - EAS ACTIVATION REQUESTED
Flash Flood Warning
National Weather Service Austin/San Antonio TX
830 AM CDT Fri Sep 4 2020

The National Weather Service in Austin/San Antonio has issued a

* Flash Flood Warning for...
  East Central Hays County in south central Texas...
  South Central Travis County in south central Texas...

* Until 1130 AM CDT.

* At 830 AM CDT, Doppler radar indicated thunderstorms producing 
  heavy rain across the warned area. Between 2 and 3 inches of rain 
  have fallen. Flash flooding is ongoing or expected to begin 
  shortly.

  HAZARD...Life threatening flash flooding. Thunderstorms
           producing flash flooding.

  SOURCE...Doppler radar.

  IMPACT...Life threatening flash flooding of creeks and streams,
           urban areas, highways, streets and underpasses.

* Some locations that will experience flash flooding include...
  Austin, Kyle, Buda, Tanglewood Forest, Mustang Ridge, Niederwald, 
  Bear Creek, Onion Creek, Shady Hollow, Manchaca, San Leanna, Hays, 
  Creedmoor and McKinney Falls State Park.

… Authority / NWS Weather Prediction Center / College Park, MD …
Mesoscale Precipitation Discussion: #0713
(Issued at 1005 AM EDT Fri Sep 04 2020 )
MPD Selection
---
Mesoscale Precipitation Discussion 0713
NWS Weather Prediction Center College Park MD
1005 AM EDT Fri Sep 04 2020

Areas affected...central TX

Concerning...Heavy rainfall...Flash flooding possible

Valid 041402Z - 041830Z

SUMMARY...Slow-moving showers and thunderstorms with rainfall
rates up to 2 inches in 3o minutes will continue a flash flood
threat over parts of central TX through 18Z.

DISCUSSION...GOES East water vapor imagery showed a slow moving
mid-level low over the Edwards Plateau with a trough axis
extending northeastward from the low into northeastern TX. Water
vapor imagery also showed higher mid-upper level moisture east of
the trough axis, with dry air to the west. Precipitable water
values from the 12Z RAOBs and GPS sensors ranged from about 1.7 to
2.1 inches along and east of the mid-level trough. Radar imagery
through 1345Z displayed scattered slow moving showers and
thunderstorms near I-35, between Hillsboro and New Braunfels.

While wind shear is weak (850-300 mb mean wind < 10 kt) which will
limit storm organization and longevity, VAD wind plots identified
a slightly enhanced region of southerly 850 mb flow, ranging
between 10-15 kt, located between KDFX and KEWX. This corridor of
enhanced 850 mb flow will help to support training as individual
cells should tend slowly track toward the north while regeneration
occurs on the south side.

Storms have had a history of intense rainfall rates, with several
observations supporting 0.5 inches in 10 minutes, 0.5 to 1 inch in
20 minutes and values approaching 2 inches in 30 minutes from
12-13Z near I-35, south of Austin. Portions of central TX have
seen heavy rain over the past 24-48 hours which may increase the
flash flood threat given the potential for overlap of additional
heavy rain.

Otto