Austin / Travis County and South Central Texas Weather Statement
Prepared by UT University/Incident Meteorologist Troy Kimmel
900am CT – Thursday / 20 November 2014

.. Threat of Severe Thunderstorms for Late Friday Night into Saturday ..
SYNOPTIC/FORECAST REASONING:
A strong upper level low pressure disturbance and an associated Pacific cold
front will sweep across Texas late Friday through Saturday. In advance of the
system, an increasingly moist and unstable air mass is building. As the system
crosses the state, abundant and dynamic lift will result in the development of
rain showers and thunderstorms… some of the thunderstorms may be severe
with the threat of larger hail.. damaging winds and even a few tornadoes.
At this point, the system is forecast to pass the area by Saturday evening with
partial clearing Saturday night. Sunshine is expected Sunday.
The NWS/Storm Prediction Center has the western parts of our local area in a marginal risk
for severe thunderstorms for both late Friday into early Saturday through 6am (NWS SPC's
day two outlook):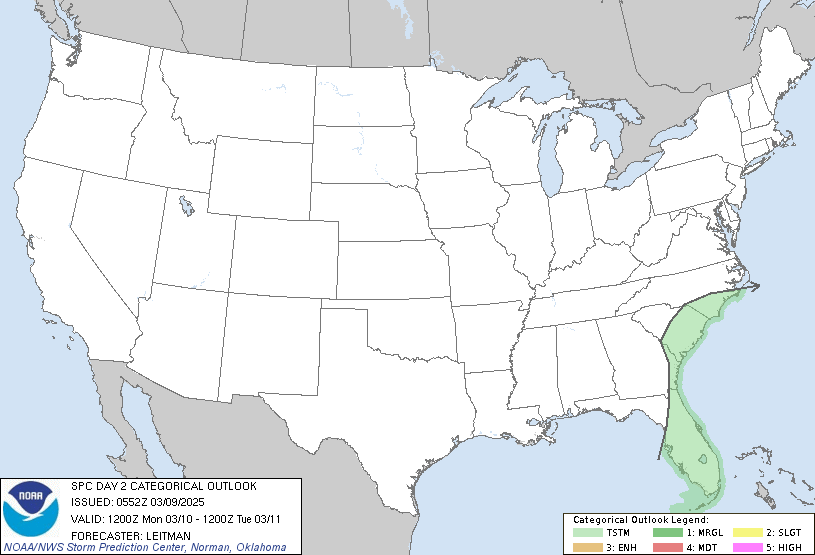 .. as well, with an "enhanced" risk as from 6am Saturday morning through the day Saturday (NWS SPC's
day three outlook):



This event.. according to the latest NWS rainfall forecasts.. could produce
upwards of 1 to 2 inches locally but the system is forecast to be fairly progressive
(i.e., fast moving and moving on through the area) so it should not create widespread
flooding.
This acts as an initial heads up for this event. I'll continue to keep you informed.
tk
CALL TO ACTION:
Please remain "weather aware" and listen for the latest weather statements,
advisories, watches and warnings from the National Weather Service.
Make sure that your NOAA All Hazards Weather Radio is operational and are
set to alarm in case of severe and inclement weather watches and/or warnings.
FOLLOWUP STATEMENTS:
I will continue to keep you informed regarding this severe/inclement weather
event. Any questions, please let me know at tkimmel@austin.utexas.edu
GENERAL WEATHER INFORMATION LINKS:

NWS/Austin-San Antonio Current Statements/Advisory/Watches/Warnings
NWS/Austin-San Antonio Web Page
NWS/Storm Prediction Center (Outlooks)
NWS/Storm Prediction Center (Mesoscale Discussions – Severe Weather & Snow)
NWS/Storm Prediction Center (Severe Thunderstorm/Tornado Watches)
NWS/Weather Prediction Center (Mesoscale Discussions – Heavy Rain & Flooding)
NWS/National Hurricane Center
tk