Austin / Travis County and South Central Texas Weather Update #4
Prepared by UT University/Incident Meteorologist Troy Kimmel
605am CT – Sunday / 02 April 2017

.. Authority / NWS Storm Prediction Center ..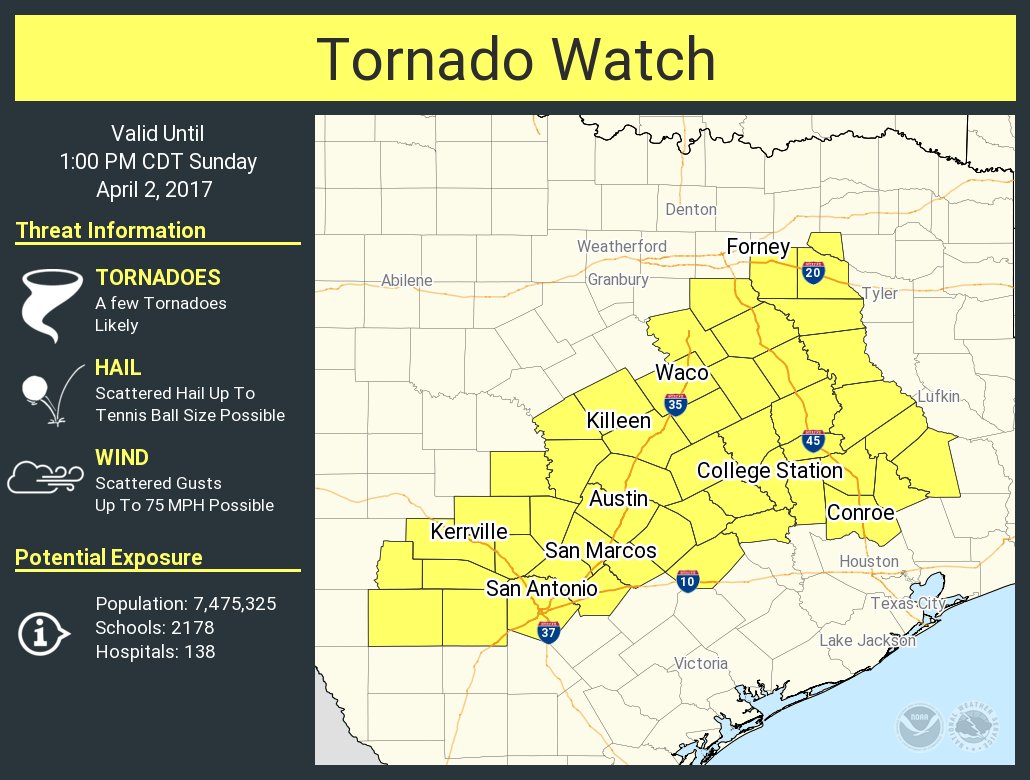 URGENT – IMMEDIATE BROADCAST REQUESTED
Tornado Watch Number 108
NWS Storm Prediction Center Norman OK
555 AM CDT Sun Apr 2 2017

The NWS Storm Prediction Center has issued a

* Tornado Watch for portions of 
  Parts of central and east Texas

* Effective this Sunday morning and afternoon from 555 AM until
  100 PM CDT.

* Primary threats include...
  A few tornadoes likely
  Scattered damaging winds and isolated significant gusts to 75
    mph possible
  Scattered large hail and isolated very large hail events to 2.5
    inches in diameter possible

SUMMARY...A large cluster of thunderstorms that has persisted
overnight west of San Antonio will likely begin to organize into
more of a bowing line with time, with an attendant increase in the
damaging wind risk.  Embedded circulations will also pose a tornado
risk.  Ahead of the line of storms, more isolated cells now forming
in the Houston to Austin corridor will shift northward with time,
and some could become supercells capable of producing a few
tornadoes later this morning.  Large hail will also be possible with
the stronger storms.

The tornado watch area is approximately along and 65 statute miles
north and south of a line from 55 miles west of Hondo TX to 40 miles
south southeast of Tyler TX. For a complete depiction of the watch
see the associated watch outline update (WOUS64 KWNS WOU8).

PRECAUTIONARY/PREPAREDNESS ACTIONS...

REMEMBER...A Tornado Watch means conditions are favorable for
tornadoes and severe thunderstorms in and close to the watch
area. Persons in these areas should be on the lookout for
threatening weather conditions and listen for later statements
and possible warnings.

&&

OTHER WATCH INFORMATION...CONTINUE...WW 107...

AVIATION...Tornadoes and a few severe thunderstorms with hail
surface and aloft to 2.5 inches. Extreme turbulence and surface wind
gusts to 65 knots. A few cumulonimbi with maximum tops to 550. Mean
storm motion vector 24035.

...Thompson


TXC021-029-031-053-055-091-149-187-209-259-287-299-453-491-021800-
/O.NEW.KEWX.TO.A.0108.170402T1100Z-170402T1800Z/

THE NATIONAL WEATHER SERVICE HAS ISSUED TORNADO WATCH 108 IN
EFFECT UNTIL 1 PM CDT THIS AFTERNOON FOR THE FOLLOWING AREAS

IN TEXAS THIS WATCH INCLUDES 14 COUNTIES

IN SOUTH CENTRAL TEXAS



BASTROP

               BEXAR                 

BLANCO

               


BURNET                CALDWELL

              COMAL                


FAYETTE

               GUADALUPE             

HAYS

                 
KENDALL               

LEE                   LLANO                
TRAVIS                WILLIAMSON            



THIS INCLUDES THE CITIES OF AUSTIN, BASTROP, BLANCO, BOERNE, 
BURNET, GEORGETOWN, GIDDINGS, LA GRANGE, LLANO, LOCKHART, 
NEW BRAUNFELS, SAN ANTONIO, SAN MARCOS, AND SEGUIN.