Austin / Travis County and South Central Texas Weather Update #7
Prepared by UT University/Incident Meteorologist Troy Kimmel
300pm CT – Sunday / 09 September 2018
… Rains Decrease Across South Central Texas …
… Attention Now Turns Back to The Caribbean Sea / Gulf of Mexico …
… Residents Along the Texas Coast and All of South Texas Should, as Usual this Time of
Year, Closely Monitor National Weather Service and National Hurricane Center Updates …
First, our rains across south central Texas have greatly decreased over the last few hours.
Due to the drought conditions in place over the area, for the most part, the overnight rains have been very beneficial with most areas reporting no standing water (the water soaked into the soils which is good news). There are exceptions to our immediate south – such as in Hays County – where rainfall has been heavier and there are reports of flooded low water crossings. A NWS/Austin-San Antonio issued FLASH FLOOD WARNING remains in effect for Hays and adjoining counties to the south (Comal County) until 415pm.
Reminder… a FLASH FLOOD WATCH remains in effect until 9am Monday for the IH35 corridor.
…. Watching the Tropics (Specifically, the Caribbean Sea / Gulf of Mexico) ….
In their early afternoon update, the NWS/National Hurricane Center is now discussing an area of disturbed weather over the western Caribbean Sea. The area of disturbed weather, at least in my opinion, has become better organized over the past 12 hours. Here is the NWS/National Hurricane Center discussion of the area along with the associated graphic…
"The combination of an upper-level trough and a tropical wave over the northwestern Caribbean Sea is
producing a large area of disorganized showers and thunderstorms between Cuba and Honduras. Upper-level winds could become somewhat more conducive for some development when the system moves into the Gulf of Mexico in a couple of days while the system moves slowly west-northwestward or northwestward.
* Formation chance through 48 hours…low…near 0 percent.
* Formation chance through 5 days…low…20 percent."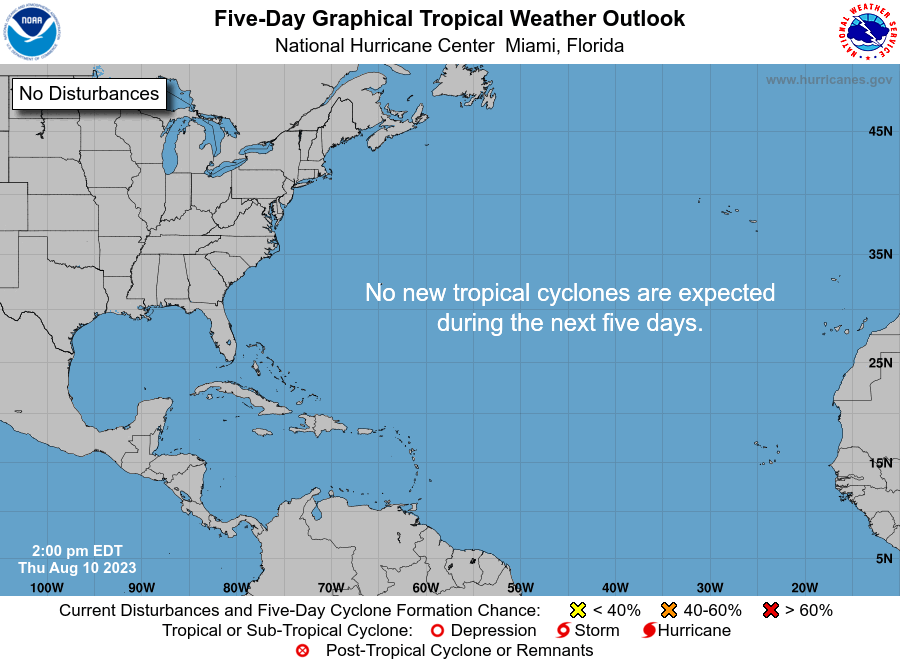 The long and short of this… we really don't know the "whats, wheres, and whens" or even the IF about this system; in any case, all residents along the Texas coast and over south Texas should be keeping up to date with updates from their local National Weather Service office as well as the NWS/National Hurricane Center.
I'll continue to keep you up to date..
tk