Austin / Travis County and South Central Texas Weather Statement #1
Prepared by UT University/Incident Meteorologist Troy Kimmel
915pm CT – Saturday / 13 June 2015

.. Tropical Weather Update …
.. Watching a Disturbed Area of Weather over the Yucatan Peninsula / Yucatan Channel..
.. System Has a Good Chance of Getting Better Organized as it Moves Northwestward for Next Few Days ..
NWS WATCHES / ADVISORIES / WARNINGS:
There are no watches/advisories or warning in effect for our area.

I don't like Saturday night updates, but I feel this one is necessary given that whatever
happens with this system could affect Texas as early as Monday into Tuesday
therefore the Saturday night update is warranted.
On this Saturday night, a disturbed area of weather is located over the Yucatan Peninsula
eastward to western Cuba.. infrared satellite imagery indicates it well…
LINK: http://1.usa.gov/1dE8AiI



According to the forecasters at the National Hurricane Center (NHC) in their latest outlook…
"An area of low pressure located over the Yucatan Peninsula is producing a large area of showers and
thunderstorms and winds to near gale force over portions of the northwestern Caribbean Sea and
southeastern Gulf of Mexico as it interacts with an upper-level trough. Environmental conditions should
support some development of this system after it moves over the southwestern Gulf of Mexico Sunday
and across the northwestern Gulf of Mexico through Tuesday. Regardless of development, heavy rains
are possible over portions of the Yucatan Peninsula through Sunday. An Air Force Reserve Hurricane
Hunter aircraft is scheduled to investigate this system Sunday afternoon, if necessary.
* Formation chance through 48 hours…medium…50 percent
* Formation chance through 5 days…medium…60 percent"
A couple things to remember as we watch this system…
(1) The NHC's chance of future development for this system, for the five days ahead, has gone from
20% in the predawn hours this morning to the current 60% probability. This concerns me since it tells
you something of the NHC forecast thought process and their forecast confidence.
(2) Typically (in other words, climatologically) we must watch the Gulf of Mexico for early hurricane
season systems.. we are in that early part of the season.
(3) The Gulf of Mexico waters are quite warm with lots of potential latent heat to contribute for any
tropical development (if it occurs)
(4) Remember that there are two things that largely determine what effect a tropical cyclone has on
a given location… first, how well developed or strong the system becomes, of course, and, secondly,
it's exact track across the given area. There are limitless potential scenarios for this system but one
thing to remember is that if the track stays east of our area (say into southeast Texas), we will be
on what is normally the drier side of the system (especially if it becomes better developed). If it tracks
more overhead or to west and southwest of our area, we end up in what is normally the wetter part of
the system. At this moment, it appears that the first scenario (track staying east of our local IH35
corridor area) appears most likely, but we must all begin watching this system tonight into Sunday
since parts of Texas may be making preparations for a possible tropical cyclone, if this system develops
over the Gulf of Mexico, by Sunday night into Monday.
It is also important to remember that even if it doesn't become better developed, the system is still
expected cause widespread rain showers and thunderstorms over the eastern half the state for the
first through middle part of the upcoming week (depending upon exact track).
Here's the latest NWS/Weather Prediction Center Quantitative Precipitation Forecast (QPF)
from now through the next five days.. notice forecast precipitation amounts of 6 inches around the
Houston/Galveston areas of southeast Texas… with averages around 1 to 1 1/2 inches across the IH35
corridor area…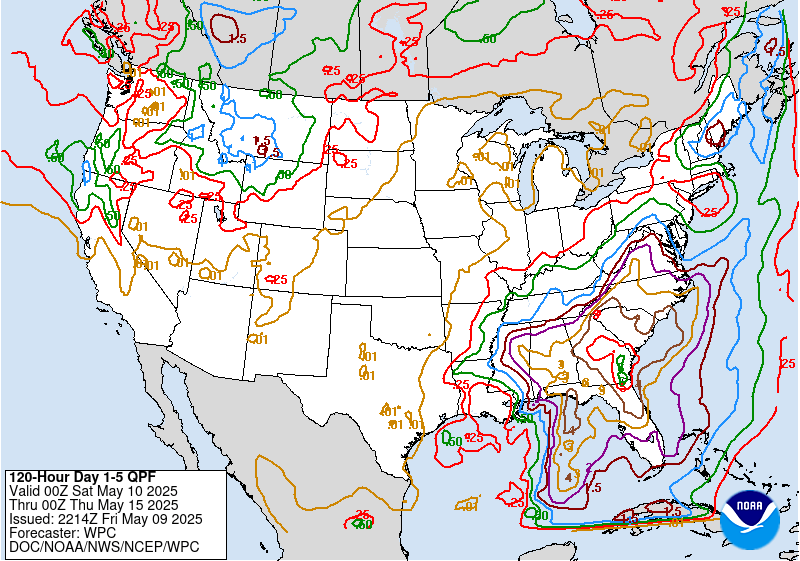 That's it from me tonight.. just a heads up for everyone as we continue through our weekend and start to
think about the potentially busy weather work week ahead for central and eastern Texas.
I'll send update #2 sometime on Sunday.
Rest well,
Troy