Austin / Travis County and South Central Texas Weather Statement #1
Prepared by UT University/Incident Meteorologist Troy Kimmel
950pm CT – Sunday / 08 March 2015

.. Heavy Rainfall Possible Over the Next 24 Hours ..
.. A Flash Flood Watch Is In Effect Until 7pm Monday for Eastern Hill Country and
the IH35 Corridor and Eastward .. Includes Austin and Other IH35 Corridor Metro Areas ..
NWS WATCHES / ADVISORIES / WARNINGS:
NWS /  Flash Flood Watch (Valid Current to 7pm Mon/09Mar2015)
Counties Included.. Williamson, Hays and Travis Counties
Rainfall amounts of  2 to 4 inches is possible with isolated amounts to 6 inches
—–
NWS Satellite Precipitation Estimate Message Just Issued Regarding
Increasing Rainfall Potential Overnight into Monday in area outlined here…
http://www.ospo.noaa.gov/data/atmosphere/precip/spe/activecontent/201503090110.html
—–
SYNOPTIC/FORECAST REASONING:
The atmosphere.. according to evening soundings.. is quite moist all the way up over
our area due to lower level moisture from the Gulf of Mexico overrunning the cooler
air at the surface and mid and high level moisture contribution from the Pacific Ocean
(keeping in mind that due to colder upper air temperatures, the atmosphere doesn't
allow as much moisture to co-exist in the middle and upper atmosphere. Even so, the
contribution of mid and high level moisture makes the precipitation formation process
more efficient).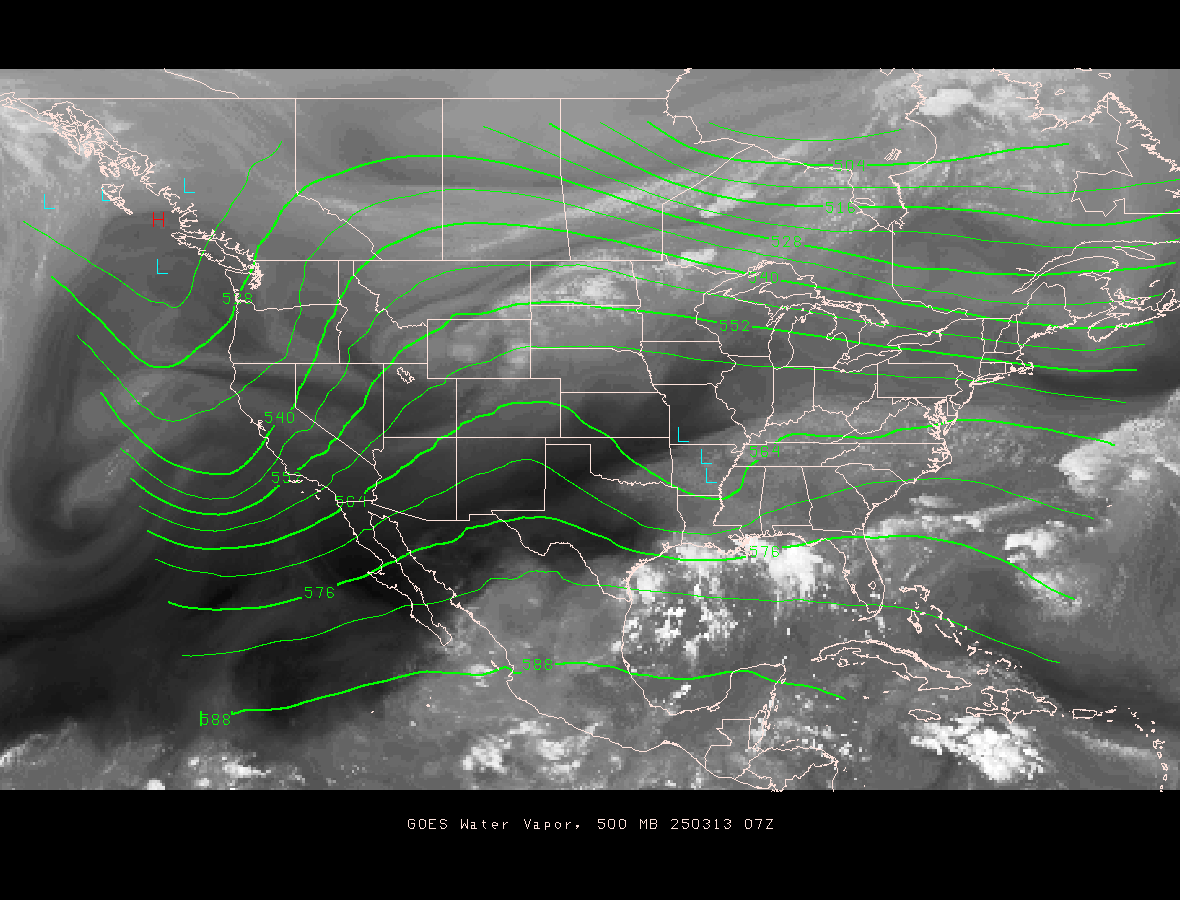 Over the next 18 to 24 hours, the upper air low pressure area (depicted above
in water vapor imagery) to our west will progress eastward across our area.
As it does, it will produce dynamic lift and with the very moist environment
overhead, waves of rainfall.. including some training of cells.. will produce
the potential for heavy rain. Isolated thunderstorms are possible.
Once the upper air disturbance moves east of the area by tomorrow evening,
we'll see gradual drying of our atmosphere with precipitation tapering off.
THREAT(S) FOR AUSTIN METRO AND IH35 CORRIDOR COUNTIES:
Excessive (heavy) rainfall of 2 to 4 inches.. isolated totals to 6 inches
Geographic area: Eastern Hill Country and the IH35 Corridor and eastward
Time Period: Current to 7pm Monday
MY FORECAST CONFIDENCE:
Weather system evolution: Very high
Precipitation chances: Very high through Monday evening
Liquid precipitation (rain) chances: Very high through Monday evening
Freezing precipitation (freezing rain/freezing drizzle) chances: NONE
Frozen precipitation (snow/ice pellets-sleet) chances: NONE
Thunderstorm/lightning chances: Low through Monday
Severe thunderstorm chances: NONE
LATEST OBSERVATIONS AND MY THOUGHTS:
So far today to 9pm, Austin City (Camp Mabry) has recorded 0.16″ of rain
while Austin Bergstrom International Airport has recorded 0.38″ of rain.
No problems are reported locally at this time.
See… http://www.atxfloods.com/
I believe the heaviest rainfall amounts with this weather event will be east
of the IH35 corridor eastward into southeast Texas and southwestward to
Victoria and Corpus Christi and Laredo then northeastward back to the
IH35 corridor. Periods of moderate to heavy rain could cause flooding
problems and, of course, closure(s) of low water crossings. Remember,
"Turn Around, Don't Drown," the National Weather Service flood
preparedness slogan!!

CALL TO ACTION:
Please remain "weather aware" and listen for the latest weather statements,
advisories, watches and warnings from the Austin-San Antonio office of the
National Weather Service.
Make sure that your NOAA All Hazards Weather Radio is operational and are
set to alarm in case of severe and inclement weather watches and/or warnings.
FOLLOWUP STATEMENTS:
I will continue to keep you informed regarding this severe/inclement weather
event. Any questions, please let me know at tkimmel@austin.utexas.edu
GENERAL WEATHER INFORMATION LINKS:

NWS/Austin-San Antonio Current Statements/Advisory/Watches/Warnings
NWS/Austin-San Antonio Web Page
NWS/Storm Prediction Center (Outlooks)
NWS/Storm Prediction Center (Mesoscale Discussions – Severe Weather & Snow)
NWS/Storm Prediction Center (Severe Thunderstorm/Tornado Watches)
NWS/Weather Prediction Center (Mesoscale Discussions – Heavy Rain & Flooding)
NWS/National Hurricane Center